Sunday Reflections
0 Comments
Readings: Isaiah 11: 1-10; Romans 15: 4-9; Matthew 3: 1-12 Preacher: Sonja Livingston Edward Hicks was an 18th century Quaker minister...
Read More →
Women Deacons in the First Millennium of the Church
Where and how did women deacons begin?  Some might say, "Oh, it began with Phoebe.  You know, she's the one that Paul praised in his letter to the Romans more….
Phoebe's Story
In case you missed it, September 3rd is St. Phoebe's Feast Day.  I'm guessing that you missed it.  I'm also guessing that you may well be wondering this: Who, exactly, is Phoebe?  And why is she considered so important that she's given a Feast Day? More…
An Invitation to Participate in the Synod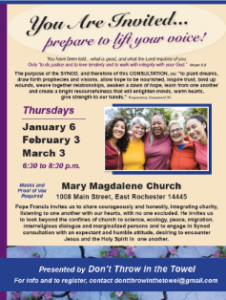 Click here for larger, printable invitation
On October 10, Rochester Bishop Salvatore Matano opened the diocesan phases of the worldwide synod called by Pope Francis. The synod will move from a diocesan phase to a continental phase, and finally to the universal phase in Rome in early 2023.
Now you have a chance to share your thoughts. Please bring your love and your hopes to these consultations to be held by Zoom presented by Don't Throw in the Towel.  Two remaining sessions are scheduled from 6:30 to 8:30 pm, on Feb 3 and March 3 where you will be heard and your input will be respected as together we intend to fill in the diocesan form and also get it to the Pope.  To register for either or both sessions, email dontthrowinthetowel@gmail.com. You will then receive the Zoom link.
You want Jesus' church to more closely follow Jesus' words and ways.  Here is a great opportunity to be heard as if you were at the council of Jerusalem, an early synodal experience. Religious orders discern together in a synodal way of listening with respect to one another.  Some of your small faith sharing groups may have been synodal experiences.
We also encourage you to fill in the Synod Input form you find on our diocesan website (https://lp.constantcontactpages.com/sv/FdVInzb) or the USCCB website by March 30 and participate in your parish Synod consultations and offer to facilitate parish consultations but don't miss these 1st Thursday sessions as we'll really hear one another out and by March 3 we'll have gathered input for all 10 themes.  To evoke your hopes we're rephrasing the questions on the input form.  Pope Francis believes what scripture tells us – that the Holy Spirit is in each one of us!  So, Pope Francis wants to hear from us.  If you have to miss a session or 2 please come to what you can and bring your openhearted and open minded friends.
Heidi Schlumpf, editor of National Catholic Reporter will come to Rochester at our invitation in May to speak about church reform. We'll let you know the date when we firm that up.
For more information on the diocesan phase, see the Catholic Courier story at https://catholiccourier.com/articles/in-union-with-pope-francis-rochester-diocese-opens-synod/
We'll post more on ways to participate in the synod at the diocesan level as details are available.
Purpose
God's Word Many Voices continues and celebrates the 40 plus year history of lay preaching in the Diocese of Rochester, N.Y. This website offers our ever-expanding roster of gifted and highly educated lay preachers a forum to share diverse viewpoints that inform and inspire our readers. We offer these weekly homilies to nurture the faith of our readers and to bring health and vitality to our church.


Upcoming Events
Click here to view Complete calendar
[calendar id="506″]
Prayer for our Future Bishop of the Diocese of Rochester, N.Y.
Oh God, Loving Shepherd who embodies all that is Wisdom and Justice,
You have blessed our diocese time and again with good,
wise, and holy bishops. More…
Pope Francis on Preparing for the Synod
Pope Francis has called the world-wide Synod to "plant dreams, draw forth prophecies and visions, allow hope to flourish, inspire trust, bind up wounds, weave together relationships, awaken a dream of hope, learn from one another and create a bright resourcefulness that will enlighten minds, warm hearts, give strength to our hands." Synod. Preparatory Document 32 see Roman Catholic Diocese of Rochester Synod Website
As he launches the 2021-2023 world wide Synod, Pope Francis asks, "How good is the hearing of our heart?…Do we allow people to express themselves, to walk in faith… even though they have had difficulties in life, and to be part of the life of the community without being hindered, rejected or judged?"  
As Pope Francis Launched our 2021- 2023 Synod he urged,  "Every encounter, as we know, calls for openness, courage and a willingness to let ourselves be challenged by the presence and the stories of others…Let us ask: in church, are we good at listening? "
At the Vatican's opening mass, Oct 10, launching the 2021-23 Synod process, Pope Francis urged the global Catholic Church to master the "art of encounter…Everything changes once we are capable of genuine encounters with [Jesus} and with one another … without formalism or pretense, but simply as we are." 
Sr. Barbara Moore, RSM Blog
Sister Barbara posts a weekly blog on the Sunday readings.  Click here to view and subscribe.